Office 365 Up-Time: Understand and Verify Your SLA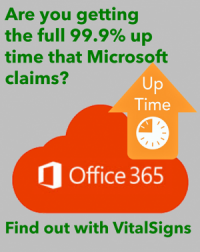 Maximize the Potential of your Office 365 Environment
It's critical for IT administrators to provide an excellent end-user experience, avoiding interruptions in application performance at all costs. This is why server monitoring resonates with many administrators today, as they can easily realize how beneficial the insights provided by monitoring can be. Some elements of IT environments can benefit more from these insights, such as your email and messaging applications.
Companies like Microsoft provide their email, Office 365, users with a financially backed service level agreement (SLA) guaranteeing 99.9% up-time. Microsoft hoped to eliminate a major concern for their users, the worry of whether the servers are up or down. However, there are multiple cases outlined in this SLA where the 99.9% up-time promise is not applicable, and therefore, not financially backed.
Office 365 expert James Hodge explains how it is interesting to take a deeper look into how Microsoft actually defines 'Downtime', referring to it as "any period of time when users are unable to send or receive email via all supported mailbox access which is calculated using Exchange application availability in database minutes and combined data where applicable from server, operating system, application, network segments and infrastructure services managed by Microsoft."
It is also worth taking a second look at the formula Microsoft uses to calculate the 99.9% up-time claim:

This is defined by Microsoft as 'Calculated by taking the total number of minutes in a calendar month multiplied by the total number of users minus the total number of minutes of Downtime experienced by all users in a given calendar month, all divided by the total number of minutes in that calendar month multiplied by the total number of users.'
As you can see the number of users in your environment can drastically affect your actual downtime percentage Microsoft's marketing efforts have created a gap between the expectation and the reality of the quality of service organizations are receiving. VitalSigns monitoring has the ability to close this gap by providing organizations the insights to challenge Microsoft's SLA. VitalSigns can verify the true uptime percentage, send alerts on issue before end users are affected, and can also diagnosis the cause of downtime periods. Designed as a proactive approach, VitalSigns provides in-depth evaluations of Office 365 health, allowing admins to diagnose and begin repairing before end users are affected.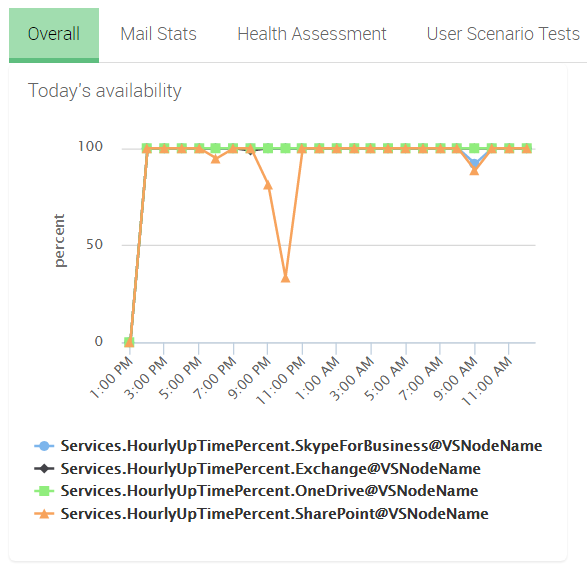 VitalSigns Office 365 Monitoring & Reporting Focus
Mail Flow
Inbox Test
Test Fail Alerts
Resolve User
SLA Compliance
End User Experience
Adoption Metrics
OneDrive Management
Track O365/AD Sync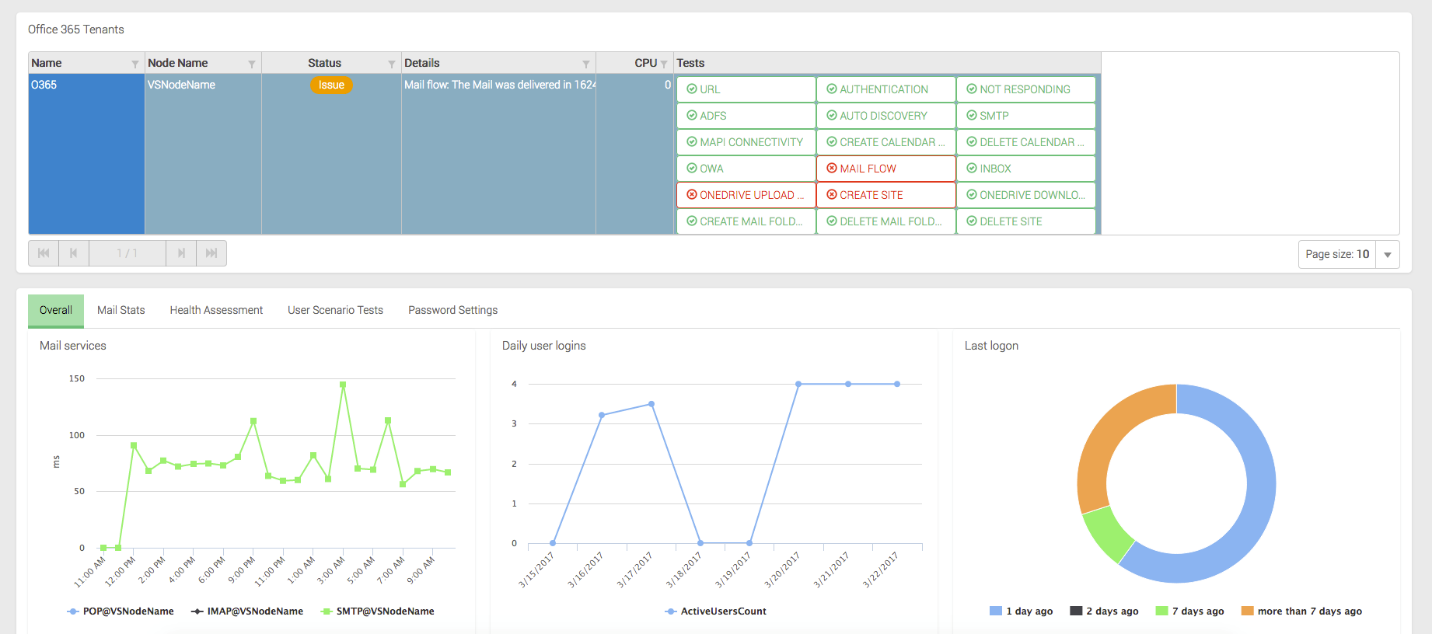 VitalSigns monitors IT environments by component, by location, and by percentage of up-time. This allows admins to not only identify issues but also identify trends, reducing the chances of future malfunctions. Microsoft is not motivated, or capable, of providing this type of granular information. When using VitalSigns admins are empowered to quantify downtime and assure compliance from the provider. VitalSigns assures organizations that they are maximizing the potential of their Office 365 investment.