Happy Birthday, Lotus Notes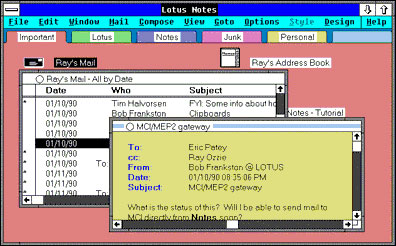 This week was the 32nd anniversary of the start of Lotus Notes. What is amazing is the context. In December 1984 the IBM PC was only 3 years old. No GUI. No real networking.  I remember my first job with a Lotus Business partner we had to bring network cards that plugged into the parallel port plus our own hub and cables whenever we wanted to do a demo.
Decades later, this same core gets another major innovation (for those not in this space, we are shipping a new web UI for Notes email "Verse on Premises"). The history in-between has had amazing moments. But more than three decades on, this spec is still at its core relevant, catalyzing.