VitalSigns Monitoring Roadmap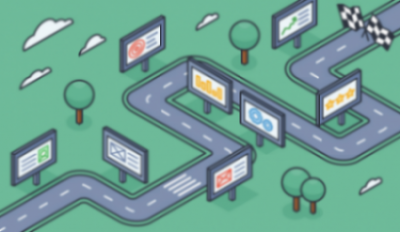 We are just about a quarter of the way into 2017 and VitalSigns server monitoring has already been creating some buzz within the enterprise collaboration community. The fourth release of VitalSigns became available at the start of the year and has been praised for its beautiful new interface, but more importantly its ability to monitor the entire IBM Collaboration stack. The ability to dig deeper into technologies such as IBM Connections and Verse has really resonated with the Domino community. Our clients have spoken and we have delivered comprehensive Domino monitoring.
VitalSigns Monitoring Roadmap for 2017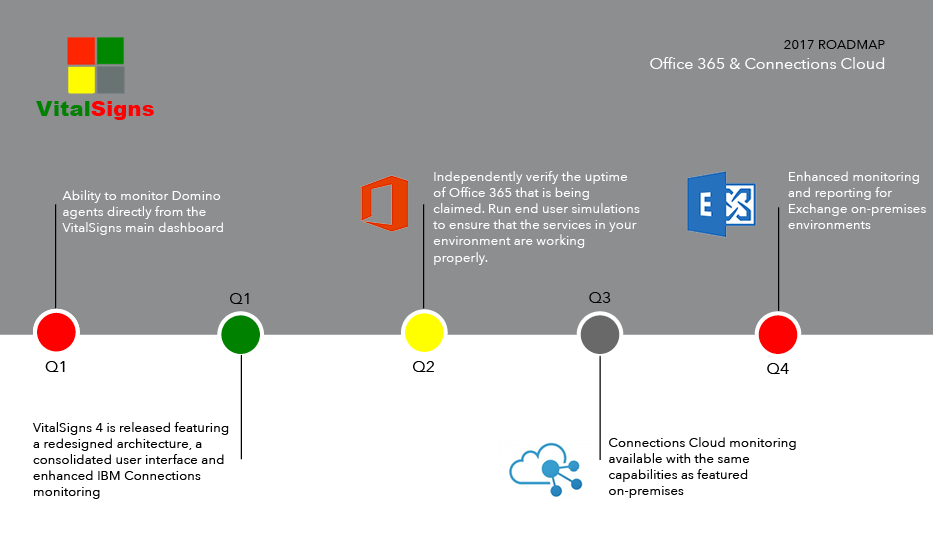 Quarter One:
With the end of the quarter just around the corner it only seems fitting to finish strong with the Domino monitoring component of VitalSigns. We understand how crucial agents are in the Domino work, especially in complex, enterprise environments. They are so important to organizational infrastructure that we have a tool called Essential Agent Master that was designed to monitor, manage and alert on all of the Domino agents within your environment. Now we are bringing components of EAM into VitalSigns to allow users to identify issues with agents and act accordingly all from a single familiar dashboard.
Quarter Two:
Moving onto quarter two, expect to see enhancements regarding monitoring Microsoft environments, in particular Office 365. We have listened to our clients and realized a commonality amongst them. While a large majority will remain on Domino going forward, there seems to be a trend of moving their mail to Office 365. Microsoft does offer a centralized monitoring option, but when working in enterprise environments this option alone simply is not enough.
VitalSigns will leverage APIs to provide service and health overviews as well as alerts and reporting for all Office 365 services (Exchange, Identity Service, Portal, Rights Management, SharePoint, Skype and Yammer). VitalSigns will extend further than the current 30 day history offered by Microsoft's built in monitoring option. Users will be able to leverage VitalSigns to independently verify the uptime of Office 365 that is being claimed and to run end user simulations to ensure the services in your environment are properly working.
Quarter Three:
Now that Connections monitoring has been mastered on-premises our next focus will be Connections Cloud monitoring. Expect to see Connections Cloud monitoring, featuring all the same capabilities that are included with Connection on-premises monitoring.
Quarter Four:
Finally to finish out 2017 we will be rounding off the Microsoft component of VitalSigns by enhancing our monitoring and reporting of Exchange on-premises. VitalSigns will have the capability to monitor critical performance metrics, identify dormant mailboxes, and to proactively send alerts based on your custom configurations.