Meet the Hyderabad development team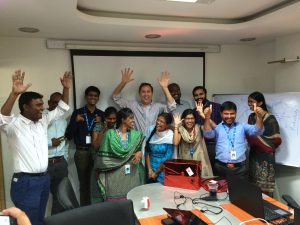 I spent last week in Hyderabad, India where I was able to meet (in person, finally) and work with our off-shore team.  We have  developers based in Arizon, Texas, and New Jersey in the states and we have both QA and developers in Hyderabad.   Until you really meet the people and see their world, you don't really understand it.
There are some very talented people on our team and I am happy that I was able to meet them in person.
From left to right is Joe, Avinash, Sunil, Mounika, Anusha, me (Alan), Sowjanya, Kiran, Swathi, Krish, Somoraj, and Durga