Impressions of IBM Connect/San Francisco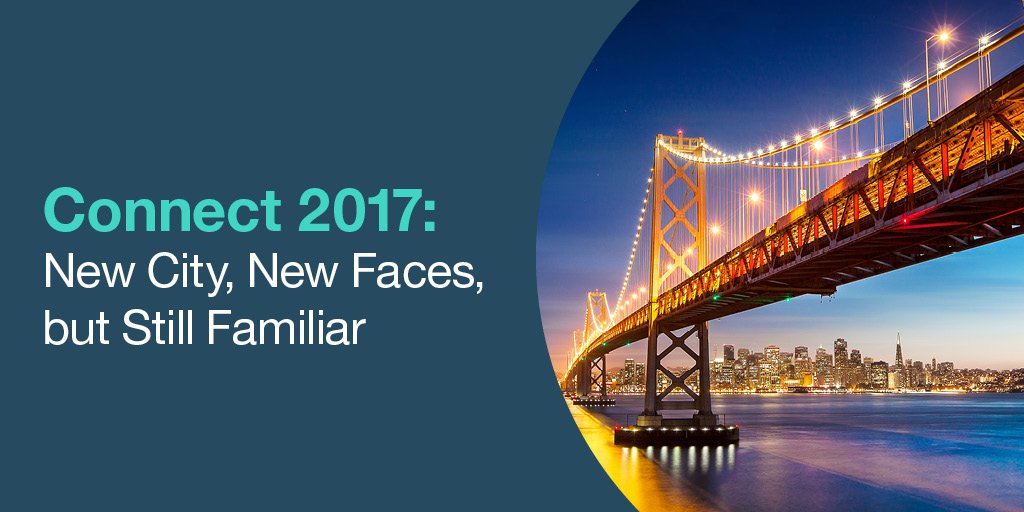 General IBM News
In the spirit of apparent "gamification" IBM announced it would stop issuing certifications in favor of virtual badges. I'm not entirely sure what the difference is, exactly, except that it is supposed to be more fun.   Julian Robicheaux was named the third Lifetime IBM Champion, which is quite an honor for him and well deserved.
The IBM team was accessible and many representatives came around the booths asking for feedback.  The mood seemed generally positive about the future of IBM Notes/Domino, Watson Work Services, and Connections.
Notes Domino News
During the opening general session, IBM announced that it plans to support and extend Notes and Domino at least through 2021.   A common response to this announcement might be to wonder "when is Notes 10 coming out?" but the answer to that is never.  IBM is not doing major releases anymore and instead will be releasing "feature packs" going forward.  They shared their specific plans for Feature Pack 8 and 9 (7 has already been delivered) in the Notes/Domino Roadmap session.  IBM also mentioned some new REST APIs that will be added to Domino including APIs for directories and calendar but these did not show up on the feature pack slide deck.
Notes Feature Pack 8

Notes Feature Pack 9

Support for Java 8 runtime
Ability to show internet addresses instead of NotesMail addresses in mail, calendar, contacts, and to-dos
Improvements in rendering forwarded MIME messages
An update to the mail template and any other templates that may require tweaks to take advantage of new features
Policy support for Group by Date and beginning of message

Upgrade OSGI/Eclipse SWT to support Java 8 compile time.  OSGi is the Java framework on which the Notes clients and Domino servers are built.  This would be to keep Notes/Domino current.
Support for persistent VDIs for roaming and SAML configurations
Ability to run rules on existing emails
Support for Last Name/First Name mail addressing
Support for auto refresh for delegated mail files
Other high priority items which have not yet been assigned to a specific feature release include
Upgrade embedded Sametime
Support for STARTTLS protocol in the Notes client. STARTTLS is a way to take an existing insecure connection and upgrade it to a secure connection using either SSL or TLS
Support for incremental overlay in federated calendars for ICS files
Delegate calendar and to-dos option when delegating mail files
Increase limit for junk mail in the Notes client
Archiving with editor access for delegates
Support for folder design upgrades for large number of folders
Forward invitation as an invitation (currently if you forward an invitation it turns into an ordinary message)
Notes template updates
Template updates will be in separate downloads on IBM Fix Central and aligned with the feature pack releases.  Only updated templates will be released and those updates will primarily consist of minimal changes needed to implement features and fixes that correspond to the Feature Pack.  There will be one zip file for English and one zip file containing all other languages.
Notes and Domino Platform updates
Support for Microsoft Windows 2016 will be added in Feature Pack 8.  32 bit support will be dropped for AIX and Linux.   No new features will be added to the Linux client but it will continue to be supported.  The intent is to give Notes on the Mac feature parity with the Windows client.   NotesMail will get more Verse-like in the future.  The embedded Sametime client will also be updated.
IBM Connections News
IBM Connections 6 will be out in a quarter (or so) and Pink is the code name for the release of Connections to come after 6.  Connections 6 looks great and dramatically expands the ability to customize the look of a community.   A new innovative feature is called "Orient Me"and is designed to help onboard new users.
Code-name Pink
IBM is apparently throwing out the current Connections architecture.  Pink will not rely on WebSphere, DB2, SQL, Oracle, Cognos, or even J2EE anymore.  Although they didn't exactly say what they were using instead, it seems clear that MongoDB will be part of the mix and that Pink will be deployed inside Docker containers.   There was even an extended hands-on session teaching attendees how to understand what Docker is.
The goal is a single code stream for Connections Cloud and on-premise so that the features will be identical.  They will move to a micro-service architecture so customers can choose where their data is stored by service.  For instance, maybe you store your blog content in the cloud but keep your profile and wiki data stored on premises.
Livegrid
A new development option currently in development for Connections Pink will allow you to write some level of applications using a browser.   This effort was presented by Maureen Leland, the same person who brought us the Domino Designer.  This will be in addition to all the extensibility stuff.
Watson Work Services
While Watson has a lot of potential to bring cognitive computing to enterprise customers, it didn't seem very accessible to more ordinary businesses.  After all, it's not a product you can download, install, and play around with. Watson Work Services brings Watson to the masses as it allows you to write code that calls Watson (which exists only in the cloud) to tap into the insight that only Watson can provide.  It is priced by the number of calls you make to the service, therefore the cost is entirely within your control. IBM confirmed that Verse on premises will have cognitive services and that there will even be a cognitive plugin for the Notes client.
Watson Workspace is something that IBM hopes to grow and expand and they are encouraging Business Partners write applications for it. While the technology seems reasonably mature, the thinking around it is still seems to be in its infancy. Ideas about what to do with it are what IBM really needs right now.